Deliverables And HomeWork
Participating students are required to submit deliverables in lieu of quizzes and exams. The deliverables are designed with project design milestones in mind. The deliverables account for 80% of the final grade. The homework assignments are due by end of the second class period of each week until week 9. After week 9 there will be no more homework and the focus is on finishing the student projects. The homework assignments are designed to expand the skill sets of the participating students. The homework assignments account for 20% of the final grade.
Powered by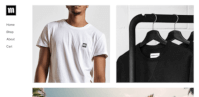 Create your own unique website with customizable templates.